Why is Ring of Honor Still #3?
Ring of Honor wrestling started in 2002. Some of today's best wresters have worked for the federation, including WWE's Daniel Bryan and CM Punk and TNA's Samoa Joe. Yet the federation remains mired in a distant third place (behind WWE and TNA) among American wrestling companies. Why?
#1 Loss of talent is one thing. The best wrestlers of RoH end up being stolen by WWE or TNA.
#2 The talents that Ring of Honor are able to secure who have been in WWE and TNA in the past are lower carders (Jay Lethal) or over-the-hill (Rhyno, Fit Finlay).
#3 Too much wrestling, not enough story. RoH prides itself on great matches, and they deliver. But having been to two live shows now I can tell you it's very easy to burn out on nothing but high octane wrestling.

#4 Few wrestlers with gimmicks actually worth caring about. Sure Kevin Steen is an awesome heel. Davey Richards is someone you can care about. And The Briscoes are one of the best tag teams working today. But do you care about Eddie Edwards? Michael Elgin? And these are supposed to be top level guys. The lower card is treated terribly and is not building new stars.
#5 Overselling. Ring of Honor fans tend to be fanatics and will make it sound like the most amazing thing in the world. It often under-delivers.
#6 A one hour show. One hour is not long enough for a major wrestling show.
#7 No PPV deal. Ring of Honor Pay Per Views air on the Internet where piracy must have a huge impact on their bottom line.
Since 2011 when Sinclair Broadcasting Group bought the company some things have improved. Production values have gone up slightly. But technical problems with an Internet PPV were so bad RoH was forced to replay the main event on free TV. Sinclair has also allowed RoH to reach a much larger TV audience than it ever has before. So there is hope for the future. Some thought ECW could have knocked off the big names. Some think the same of RoH. It will be years before we know the answer to that question.
Images:
http://smg.photobucket.com/albums/v139/LucianCarter/?action=view&current=SteenChamp.jpg
Kevin Steen as Champion
http://smg.photobucket.com/albums/v139/LucianCarter/?action=view&current=DaveyRichards.jpg
Davey Richards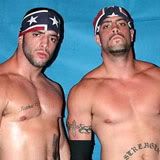 The Briscoe Brothers